Quit Your Day Job DVD
$

18.99
Sold out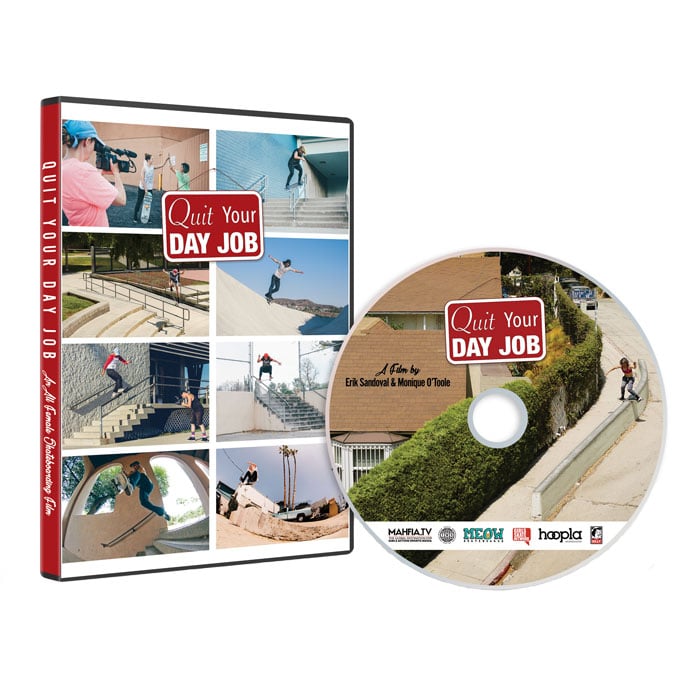 The first full length all-girl US skate video in over a decade!
Starring: Vanessa Torres, Mariah Duran, Candy Jacobs, Savannah Headden, Samarria Brevard, Lacey Baker, and Nika Washington.
Featuring 30+ friends!
The first full length female skate film in the US in over a decade, "Quit Your Day Job" showcases the most progressive street skating from the top female skateboarders in the world and introduce up and coming skaters that are paving the way for the future generation of skateboarding. This film will change people's perception of what females are capable of and inspire a new world of possibility for the next generation of skateboarders.
Created by skaters and filmmakers Erik Sandoval and Monique O'Toole, this project started in January of 2015 as a short skate edit. The desire, demand and need for a full length girls skate film became a reality as Erik and Monique met girls from all over the country whose talents deserve to be showcased. Erik and Monique, along with a few of the skaters decided to quit their day jobs and dedicate their lives to this film. With support from the leaders of the women's skate community including MAHFIA.TV, Girls Skate Network, Meow Skateboards, Hoopla Skateboards and Silly Girl Skateboards as well as one of the top print publications, Transworld Skateboarding, this project was completed and released in Jan 2017.
Starring:
Vanessa Torres, Lacey Baker, Samarria Brevard, Candy Jacobs, Nika Washington, Mariah Duran, Annie Guglia and Savannah Headden.
Also Featuring:
Amanda Castillo, Chryssie Banfell, Kat Sy, Courtney Akita, Chelsea Castro, Meagan Guy, Christiana Smith, Minna Stess, Roxzi Bokolas, Jordan Serpentini, Elo Jett, Maddie Collins, Die Hu, Eleanor Bowyer, Kelly Green, Kiana Parra, Noelia Velez, Ali Stevens, Marissa Martinez, Brighton Zeuner, Poppy Starr Olsen, Bryce Wettstein, Sierra Kerr, Nicole Hause, Andrea Bethke, Izy Mutu, Shanae Collins, Hanna Zanzi, Fabiana Delfino, Mimi Knoop, Kristin Ebeling, Jordyn Barratt, and Lenna Chrisala.
VIEW OUR TEAM